Watch Servicing and Repairs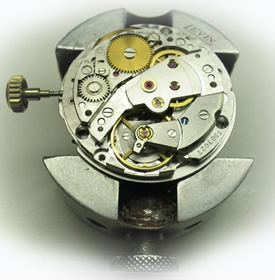 We are dedicated to serving your Rolex or High-grade watch needs according to factory standards.
Most watch manufactures recommend a complete watch service every 3-5 years. Our watch overhauls come with a 6 month to 2 year warranty (depending on the age of the watch).
If your mechanical watch is running more than 2-3 minutes fast or slow a day, it may be time to have your watch serviced.
Our routine service includes:
The customer receives a detailed cost estimate.
Complete disassembly and cleaning of the case & band. An optional case and band refinishing is available to make your watch look brand new. (Leather bands are treated with silicone if desired)
The movement is completely disassembled and ultrasonically cleaned with specialized L&R cleaning and rinse solvents in 11 steps to insure a perfectly clean movement.
Assembly and Proper lubrication according to factory specifications with only the highest grade synthetic lubricants during the reassembly process.
Reassembly of movement into case.
All gaskets are replaced, and a water resistance test is done to ensure water resistance according to factory standards.
Your watch is thoroughly tested and regulated in 5 positions to ensure proper time keeping capability using modern electronic equipment over a period of 3 days to assure accuracy.
A final inspection to be sure your watch looks and runs like the first day you put it on your wrist.
If you are in need of a full restoration just visit the Watch Restoration page and see what we can do for you!